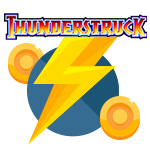 The popularity of Thunderstruck online casino slots is obvious when you realise that the game sired a sequel. Nonetheless, our Thunderstruck online slot and app review team reconfirmed that the game deserves its spot in the gaming limelight.
Key Features
5 reels with 9 adjustable paylines
Gigantic 10,000 coin Thor jackpot
Free spin round with generous multipliers
Flexible bets from £0.01 to £90 per spin
Compatible with PC, Mac, and mobile
If you've ever tried your luck at any of Microgaming's classic slot machines, the Thunderstruck online fruit machine will look familiar. It not only has a similar style of cartoon graphics, but the interface is nearly identical. Yet even if this is your first time gambling online, you'll have no trouble spinning these reels in seconds.
Before placing your real cash bet, you'll need to set the stakes. Thunderstruck slots do have nine paylines, but you aren't pressured into betting on all of them. While most players do prefer activating all the paylines, you can bet on as little as a single one. In addition, you can also adjust the size of the coin you want to use from £0.01 all the way up to £2. When playing slots online, Thunderstruck lets you bet up to 5 coins on each line. You don't need to be the god of mathematics to understand that this online casino game lets you bet between £0.01 and £90 per spin. Of course, spending your real money is entirely optional. The top UK internet gaming sites will let you play for free if you prefer.
Thunderstruck offers winners an optional gambling game. If you land a winning combination of symbols, you can either collect your winnings or click on the gamble button to try doubling or quadrupling your win. The game is as simple as predicting either the colour or suit of a facedown card that's about to be flipped. If your prediction is correct, you'll have the opportunity to play this card game again and again. Just keep in mind that if you lose at any stage of the gamble game, you'll head back to the main gainme empty handed.
If you're a fan of rapid thunder, you'll want to enable to the autoplay feature to automate your gameplay. Not only can you set the game to play up to 500 spins in a row, but you can program a whole range of custom conditions. You can even arrange for the game to handle your bets during the gamble feature.