Online Slots Security Guide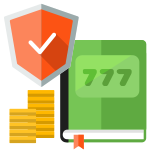 Security isn't something you can afford to take for granted these days. Whether you are banking online, shopping on the internet, or playing slots, safety is no laughing matter. Unfortunately, too many players don't even think about staying protected when enjoying their favourite games. The last thing you want is to inadvertently grant some depraved hacker access to your personal or financial information. The good news is many internet casinos keep you out of harm's way, whether you realise it or not. Still, it's important to consider your security at every step of the game, from choosing your site to banking and playing. Keep reading to learn what measures casinos take to protect you and how you can play safely.
Stick To Licenced Sites
Did you know that the most important gambling decision of your life occurs before you even place your first bet? The critical moment happens before taking your virtual seat. Where you choose to play matters more than anything else. If you live in the United Kingdom, there are over a hundred reputable places to enjoy slots online. That's because internet gambling is legal in Britain. What's even better for players is that the UK Gambling Commission licences and regulates online and offline casinos.
Choosing a licenced site is the first step to guaranteeing your safety. A valid licence ensures that sites meet certain technical and security requirements. It's the best way to know the games are fair and your personal information is safe whenever you play.
Data Encryption Protection
If you follow the news, you've probably heard a great deal about data encryption. It's a controversial topic that can pit global governments against privacy rights advocates. Yet it's absolutely critical in the operation of online banks and casinos. It's also far less contentious. Encryption simply means that your data is encoded before it's transmitted and then decoded using a special digital key once it is received. That means that even if it's intercepted along the way, it is unreadable and effectively useless. Today's online casinos use the latest 128-bit secure socket layer encryption to transmit your personal and payment information, as well as during the gameplay itself. This is the same technology used by leading financial institutions around the world.
You don't need to do anything to benefit from data encryption. It's automatically built into the casino platform. We do recommend that you make sure your web browser is always up to date. This is a useful tip even if you aren't playing at an online casino.
Fair And Random Slots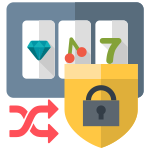 Slot machines are a game of chance, but how you know they are really random? A lot of players are suspicious of casinos and believe they manipulate the results. Online slots and other casino games rely on RNGs or random number generators. These complicated computer programs ensure that every outcome is governed strictly by the laws of pure chance. More importantly, RNGs are routinely audited to ensure that they yield completely random combinations. Sites proudly post the results of the audit and inspections. In fact, if a site doesn't display their credentials, they probably have something to hide. That's precisely when you should decide to take your business elsewhere.
Financial Security
We've already mentioned that online casinos use advanced encryption to process your payments. But did you know internet gambling sites support a wide range of payment methods? While most banking options are secure, some offer extra protection. Many credit and debit card issuers have your back if anything goes awry. Yet if you take advantage of electronic wallets like PayPal, Neteller, and Skrill, you'll get even greater protection, as you'll never need to give the casino your banking or card info in the first place. Of course, when you play at trusted licenced sites, you can count on safe play no matter how you pay.
Naturally depositing is just half of the financial picture. You'll need to claim your winnings without them intercepted in transit. Luckily all licenced casinos give you several ways to receive your winnings. Many secure deposit methods are also suitable for withdrawals and you can even receive cheques by courier, which are traceable and secure.
Respecting Your Privacy
Online casinos are legally obligated to collect information from players including your name and address. At the same time licenced sites must also safeguard your information. Yet respected sites go above and beyond their legal obligations. It's a good idea to check out the privacy policy before signing up to play. Aside from investing in technical infrastructure to keep cybercriminals at bay, the best gambling sites will not share or sell your information with third parties. It might not seem like a big deal, but don't you deserve to play in confidence as much as legally possible? Always read the fine print and never be afraid to contact customer service if you have questions or concerns.
The eCORGA Advantage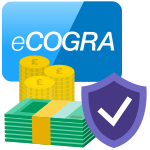 When visiting gambling sites, you'll often see a variety of logos displayed at the bottom of the landing page. This is the quickest way to view a site's licence, but you'll also find other important certificates and credentials. Keep your eyes peeled for the eCORGA Safe & Fair seal of approval. eCORGA stands for eCommerce and online gaming regulation and assurance. This supplemental seal lets you know that a casino is fair, your funds are safe, and the casino behaves ethically. You can also browse payout percentage reviews and random number generation certificates. eCORGA can also help mediate disputes in the rare event that you have unresolved issues with a site.