Online Slots Glossary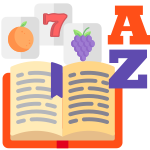 Enjoying slots is incredibly easy even if you're an absolute beginner. With so many titles available on the internet, the hardest part is deciding which game to try first. While it is true that you don't need any skills to succeed at slot machines, you'll likely encounter some unfamiliar terms and phrases. Fortunately, this glossary will have you playing like a pro in a matter of minutes. This guide won't just get you up to speed, but it makes a great reference. Keep it handy whenever and wherever you play.
The location where qualifying symbols must cross to be declared a winner. Online slot machines usually have anywhere between 1 and 243 playlines. Players can increase their wager to activate more paylines on most machines.
A feature that lets you place a set number of sequential bets without having to manually press the spin button on each game.
The quantity of cash in your casino account that's at your disposal.
Strategies used to prolong play and prevent you from losing quickly. Bankroll management includes limiting yourself to a set amount of cash in a session. You may also opt to take some money off the table when you are ahead.
Classic style slots that feature three reels, a single payline, and only a few winning combinations.
The quantity of cash that is wagered on a spin.
Wagering the maximum allowable amount of coins per spin. You may be required to make this type of wager to qualify for the top jackpot.
Additional game elements which can include extra spins or special sub-games. Bonus features can be triggered by landing special symbols or randomly. Common bonus games include match games and spinning a prize wheel.
A special promotion that rebates you a percentage of the funds you wager.
Withdrawing funds from your casino account. Most online casinos let you cashout using credit cards, debit cards, electronic wallets, wire transfers, or cheques by post.
Traditional slots that feature three reels. These games may have single or multiple paylines.
The denomination of money that a machine accepts.
The number of coins wagered on a payline.
The number of coins wagered on a single spin.
A wild symbol that swells to inhabit the entire reel, giving you more opportunities to win. These are often called stacked wilds.
Games featuring a top prize that always remains the same.
British slang to describe slot machines. May refer to traditional machines that feature fruit symbols as well as more modern slots. Also known as a fruity.
The average number of spins that you can enjoy during a 60-minute period. Most games let you play approximately 500 games each hour, although you can obviously slow down the pace.
The process of playing the same machine over and over again.
A winning slot machine spin.
The likelihood of landing a winning combination on a given spin. Also known as the hit rate.
Slots that pay infrequently, but pay handily when they do.
A special feature that gives you the opportunity to lock a reel in place before spinning. This is useful if your reel contains a coveted symbol.
Used to described machines that are believed to pay out regularly. This term is more common at live casinos, where you can keep tabs on individual machines.
The casino's mathematical advantage. This is the flip side of the payout percentage. The lower the house edge the better for you.
Games that are playable directly in your web browser. There's no software or app to download and install. Instant play games are often called no download games. They are popular because they work on most platforms including mobile.
The top prize on a specific machine.
A seemingly generous slot machine that pays out regularly.
The minimum amount you must pony up to place a single spin.
Wagering the maximum number of coins on a single spin. Most slots feature a Max Bet button for faster play. To qualify for the top payout, you may need to place the maximum wager.
Designated symbols that instantly multiply your win by a specified factor. You should consult the payout table of your game for qualifying multipliers and rates.
The phenomenon where a desired symbol that would have completed your payline lands above or below the desired spot on the reels.
A gimmick that will adjust the reels slightly to create a winning combination when necessary. This tends to be a strictly visual phenomena that adds suspense.
The line that qualifying symbols must cross in order to win.
The amount of money you'll receive for landing a specific set of symbols.
The amount of cash that a machine returns to players over time. Slots with a 99% payout rate return of wagered. Payout percentages are true over the long haul and aren't reflective of what will happen to your during your playing session.
The chart that displays qualifying symbol combinations and how much you'll win if you land them.
The cheapest games in town with bets starting as a penny. It is possible to bet multiple pennies per line, which means you can often wagers up to several dollars per spin if you choose.
Australian slang used to describe and slot machines. Not to be confused with the game of poker.
A growing jackpot that increases as bets are placed. The prize pool rises until a lucky player hits the jackpot and then the process repeats. The largest progressive jackpots are shared across multiple sites and can be worth millions.
The dynamic display that advertises the value of the prize pool.
The slot machine algorithm that ensures each spin is a matter of pure chance.
The rotating cylinders that feature various symbols. Most games feature three or five reels, but seven reel games are available.
Icons that payout no matter where they appear on reels. The number of scatters you'll need to win depend on the game but can be as few as one.
The situation where the rate of return is higher when you wager multiple coins.
The various icons on the reels. You'll need to land the right combination of symbols across a payline to win.
Slot machines with worse payout rates than anticipated.
Slot machines that feature spectacular graphics and animation.
The size of your bet on a given spin.
An icon that can act as a surrogate for other symbols. They work just like jokers in many popular card games.
Any set of qualifying symbols that results in a payout. Your winning combination must cross an active payline.
The snaking payline patterns that are eligible to win on many modern machines.