A Beginner's Guide To Playing Online Slots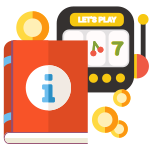 Whether you play at your local casino or on the internet, slot machines are incredibly popular. In fact, they are the most sought-after game in both the USA and UK by miles. That's because slots are games of pure chance and require no skill to enjoy. While games like blackjack, poker, and dice have complicated rules and etiquette that can intimidate new players, slots are simple and inviting. Playing slots is about as complicated as purchasing a fizzy drink from a vending machine.
Although it's impossible to slip-up playing slots, you can improve your overall returns and have more fun. It all starts with knowing the fundamentals of the game. Just follow this beginner's guide to start playing like a master from day one.
An Evolution In Gaming
While slot machines have been popular for over a century, today's games are far more sophisticated than the original fruit machines. Early games featured a fixed betting amount, three rotating wheels, and a single payline. You simply inserted your coin, pulled the lever, and would win if you landed three qualifying symbols across the centre of the machine. Today's games feature exciting themes, sophisticated graphics, multiple paylines, adjustable bet sizes, escalating jackpots, and even bonus games. If you feel like stepping back in time, you'll usually find a few classic slots at most casinos.
Making Sense Of The Reels
Reels are the rotating cylinders emblazoned with various symbols and form the basis of the game. Modern slot machines typically feature three or five reels, although some internet gambling sites offer a limited selection of seven reel games. No matter which type of game you prefer, the visible playing area is effectively a grid with the reels forming columns. Most games have three or more visible rows.
When you take a slot machine for a spin, all the reels will rotate. After several seconds the first reel will come to a halt. A few seconds later each of the remaining reels will stop in succession. You'll be declared a winner if any qualifying symbol combinations intersect with your paylines. We'll discuss how paylines work shortly.
When you play live, you'll still encounter some games that use mechanical reels. Yet when enjoying slots online or in person, you'll find video slots that look more like video games. These slots feature animations to simulate the rotating reels, but the gameplay is effectively the same.
Understanding Paylines
While the original fruit machines had a single payline running horizontally across the centre of the three reels, today's games give you far more betting opportunities. Today's slot machines offer multiple paylines with some games offering 100 or more. That means horizontal, diagonal, and even zig zag patterns can pay out handily. Some machines let you adjust the number of active paylines while others have a fixed number. Either way, you can't win on a payline unless you bet on it, no matter what symbols pass through it.
Consulting The Pay Table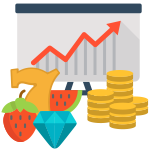 When you play slots, you'll automatically be paid when you land the right symbols in your active payline. Yet it's nice to know what you're looking for. It's a good idea to consult the pay table, which will tell you all the possible winning combinations and how much they pay. Traditional slot machines usually post the pay table at the top of the machine. When you play online, you can look for a button along the lines of view pays or view pay table. You'll also learn about any bonus games, special symbols, and any distinctive features.
Slot Machine Symbols
There are thousands of different slot machines out there. While they all feature similar game play, the themes set them apart. You'll find games based on comic books, Ancient Egypt, Sherlock Holmes, fairy tales, television, movies, sports, mythology, wizards, Christmas, Las Vegas, and pretty much anything you can think of. While the games have thematic soundtracks and animations, it's the symbols that really matter.
Symbols obviously fit the game title. While traditional fruit machines can feature cherries, lemons, and strawberries, a football slot machine might have balls, jerseys, trophies, and flags. You'll need to match up these symbols in order to win.
Special Symbols
Modern slot machines feature special symbols that can help you win more often. The most common is the wild, which can substitute for any symbol that would help you complete your line. Some wilds even expand to occupy the entire reel. If you've ever played card games with jokers, you're probably familiar with wilds. You'll also find something called scatter symbols, which can activate bonus features like free spins or multiply your winnings just for appearing on the reels.
Benefit From Bonus Games
Many slot machines feature interactive bonus games, which are usually triggered by landing specified symbols. Bonus games let you win everything from extra spins to huge jackpot. There are many types of bonus games including the opportunity to spin a prize wheel, choose a concealed prize, or even play a simple arcade-style game. Just follow the on screen instructions.
Taking The Reels For A Spin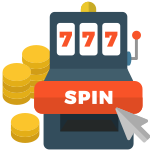 After finding a slot machine that appeals to you and inserting your real or virtual cash, you're ready to play. Before hitting the spin button, you'll need to decide how much to bet. Most machines let you adjust the coin size, the quantity of coins per payline, and the number of active paylines, but some games may have fixed coin denominations or paylines. Either way you can toggle these amounts by pressing the plus or minus buttons.
Once you are satisfied with the total size of your bet, you can press the spin button. Some slot machines have a max bet button, which will spin the reels using the maximum number of coins with a single click. Make sure you have your speakers turned up as the lively soundtrack makes for a better casino experience. Watch the reels come to life with brilliant animations. When the reels finally to a complete stop, you'll automatically be paid if you win. Don't forget that you can win on more than one payline per spin.
As you can probably imagine, most people enjoy dozens or even hundreds of spins in a single session. That's why online casinos often have an auto play buttons that can take numerous spins in a row. This can save you the trouble of repeatedly pressing the spin button. You can just sit back and watch the action. Don't worry, you'll have a few seconds in between spins to bask in the glory of your winnings.