Online Casino Slots Explained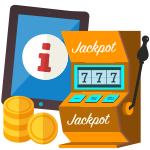 Did you know slot machines are the world's most popular casino game? Even in the face of the poker boom, casinos dedicate the bulk of their real estate to slots. Whether you know them as fruit machines, fruits, pokies, or slots, slot machines are everywhere. That's even true when you visit an internet casino. It's not uncommon to find hundreds of distinct titles that are ready to wow your senses. Although slot machines are easy to play, you'll get more out of every spin by learning the lingo and understanding the special features. Start playing like a pro the first time you play with this convenient guide.
Giving Slots A Whirl
Slots aren't complicated. You insert your money, adjust the size of your wager, and press the spin button. The reels, which are decorated with a variety of symbols, will rotate rapidly for a few seconds before coming to a halt in quick succession. You'll win if a correct combination of symbols appears across any of your active paylines. Most modern games feature either three or five reels, but the number of possible paylines can range anywhere between one and one hundred.
As we mentioned there are hundreds of different slots. The main differences between games are the underlying themes and symbols. You can find games based on classic Las Vegas imagery, fruits, cats, tattoos, films, comic books, video game characters, cricket, football, and anything else you can imagine. Of course the number of reels, paylines, and bet size vary too, but the gameplay is fundamentally the same.
Profiting From Paylines
The first slot machines featured a single horizontal payline across the centre. In order to win, the correct symbols had to appear on the payline when the reels came to a halt. Although you can still find single payline slot machines, most slots let you bet on multiple lines. That means you can wager on additional horizontal lines, diagonals, and various odd patterns.
Many machines let you adjust the number of paylines you wish to play per spin. Remember you can't win on a payline unless you bet on it. The good news is that you can easily win on multiple paylines on each spin. Most experts suggest playing all the paylines. If that's out of your budget, you can typically play fewer coins per payline or use a lower denomination of currency.
Decoding The Symbols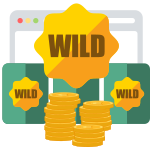 You already know that slot machine gameplay revolves around various symbols, which differ depending on the title you play. It's a good idea to consult the pay table, which is located on the top of the machine. When you play online, you'll usually need to click on a button marked pay table to view the winning symbol combinations and how much they pay. For example, landing three cherries could net you 900 coins while three lemons may only be worth 50 coins. Yet most modern games have special symbols like wilds and scatters.
Wilds are like the chameleons of the slot machine world. They can take on the form of their surroundings and you stand to profit. Although there are occasionally some restrictions, wilds can substitute for needed symbols to complete your payline. Some games also give wilds additional powers. Occasionally wilds also act as multipliers, which means they actually pay more than the symbol they are substituting. You'll also encounter special symbols called scatters. As the name implies you'll be paid even when multiple scatters appear on the different paylines.
Rewarding Bonus Games
Today's slot machines look more like arcade games than the clunky mechanical marvels they've replaced. The graphics, sounds, and animations are impressive even before you realise how much cash you can win. Yet there's more than just bells and whistles in 2022. Many slots feature bonus games, which are typically triggered by landing certain symbols. You'll often get to spin a prize wheel, pick a concealed prize, or play a simple video game. It's a great way to win extra cash without having to place an additional bet.
Plenty Of Free Spins
When viewing the pay table, you'll usually learn about the various ways you can earn free spins. You typically just need to land a combination of symbols. The best part of free spins is that you get additional gameplay at no cost. Free gameplay means more shots at hitting a jackpot without opening your wallet.
Chasing Progressive Jackpots
While most slot machines have a fixed top prize, progressive slots feature jackpots that increase over time. Every time someone plays a progressive slot, a portion of the bet gets added to the prize pool. As a result, progressive jackpots keep growing until some lucky player wins and then the process starts over. When you play online slots, you'll find jackpots of all sizes including many worth millions of pounds. It's easy to see why these are the most popular games, especially when the top games cost just a few pounds to play.
Playing To Win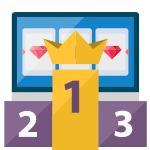 Ignore people who tell you slots are for suckers. Online slot machines have vastly superior odds than any fruit machine you'll find at your local pub or casino. In fact, it's not hard to find games that pay out 95% or more on the internet. Keep in mind that all casino games have an inherent house edge, but there are winners every day. The secret is to play within your budget and have fun. Since slot machines require no skill, your success is simply a matter of chance. Every spin is the result of a random number generator. Of course you can improve your odds by sticking to licenced sites and choosing slots with the highest payouts. Just visit our payouts guide to learn more.