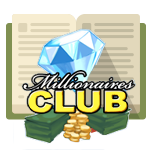 Unlike other progressive jackpot games that are filled with complicated rules, Millionaires Club online slots is rich in simplicity. Of course, most online casino fruit machine players have their eyes on the big prize, which is typically measured in the millions. The best part is you can potentially hit the jackpot for the equivalent of a couple pounds.
Key Features
Simple design with 3 reels and a single payline
Thrilling bonus game with prize wheel
Progressive jackpot up to £5M
Available to play for free or using real money
Computer, smartphone, and tablet friendly
NYX Gaming offers three distinct versions of Millionaires Club online slots that all share the same progressive jackpot. This game guide focuses on the original 3-reel real cash version, which is the most straightforward. Millionaire Club 2 and 3 are more elaborate video slots filled with wilds and scatter symbols, which aren't present in the original game. When playing online casino slots, Millionaires Club players who stray from the original often find themselves returning to this time-tested classic. Of course, our Millionaires online slot and app review team suggests you try them all for yourself.
Millionaires Club lives up to its billing. You really can join the club of affluence with a single spin. If you've never tried online slot machines, it i's practically self-explanatory. Just insert your real cash, adjust your bet to wager between 1 to 3 coins, and click on the spin button. Keep in mind that to be eligible for a Millionaires Club progressive jackpot, you'll need to place the maximum bet.
Even though the Millionaires Club online fruit machine features a vintage design, it does offer modern features like autoplay. You can play up to 50 spins in a row without having to repeatedly hit the spin button. In addition, you can have your bets automatically terminate if you win or lose a set amount. Just make sure you budget enough real money before automating your spins.
Like most top casino online slots, Millionaires Club doesn't require any skill. Your success is completely random and there's nothing you can do to influence the outcome. Still, there are plenty of newly minted Millionaires Club online slots winners. Will you be next? Don't forget that you could potentially win a progressive jackpot for a few pounds.