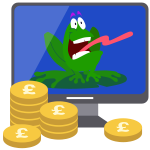 The Frogs 'n Flies slots game is set under the water in what is presumably a pond. Fortunately for fruit machine fans, there's more than just old boots lurking at the bottom of the pond though. This simple game gives you plenty of opportunities to win real cash.
Key Features
5 reel video slot with 1,024 ways to win
Prizes up to 25,000 coins plus lots of free spins
Stakes starting at £0.40 per spin
Free spins feature bonus wilds
Android, iOS, Mac, PC, and Linux compatible
As we mentioned, Frog 'N Flies online slots forgoes the traditional paylines and gives you 1024 ways to win on each spin. Still, you have two ways to alter the size of your bet. Not only can you adjust the coin value from £0.01 to £0.10, but you'll automatically wager at least 40 coins per spin. You can also make use of the handy bet multiplier feature to increase your wager by a factor of two, three, four, or five times the standard stake. If any of this sounds confusing, it's actually easy when you finally dip into this inviting pond. There's a footer at the bottom of the screen that displays your balance and the size of your wager.
If you feel like taking more than one dip at a time, you'll want to activate the auto spin feature. Just click on the button above the coin amount to spin the reels 5 to 100 times in a row. As the reels begin to rotate, you'll see a countdown of the number of spins remaining. Of course, you are free to intercept the action at any time.
New online casino players often fail to realise that some slot machine wins are less than your total bet. In other words, winning isn't always what it's cracked up to be. Of course, winning something is better than losing everything. Even so, it's always good to know exactly where you stand. Fortunately, Frogs 'N Flies shows you not just how much you've won, but your net profit or loss on your most recent spin.
Like other Lightning Box releases, real money Frogs 'N Flies offers more customisation than average. If you don't have enough bandwidth or find yourself stuck using an older device, you can reduce the quality of the graphics and animations. If you are playing at work or in a public space without headphones, it's easy to turn off the sound effects or ambient sounds.