UK Guide To Slot Machine Variations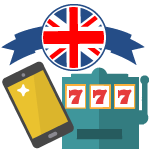 Slot machines have come a long way since their introduction over a century ago. While the object of the game remains the same, today's slots are far more riveting and rewarding. What's even better is modern slot machines come in hundreds of different themes and countless variations. No matter what floats your boat, it's easy to find gripping gameplay. Whether you play at a pub, your local casino, or on the internet, you'll want to get familiar with all the slot variations.
There are many ways to categorize slot machines. Yet no matter how you group the games, there's plenty of overlap. We'll run down what you need to know, so you can find your new favourites today.
Games For All Budgets
If you stroll around the casino floor, you'll probably notice that slot machines are often sorted by stakes. You'll find everything from penny slots to games that let you play £100 or more per spin. Keep in mind that you can play multiple lines per spin, so it may be possible to gamble a few pounds per minute even while playing the cheapest machines. Of course, modern games give you total flexibility to spend as little or as much as you wish. Slots often let you adjust the coin denomination, especially when you play online. No matter how big your bankroll happens to be, the gameplay is identical.
Slot Machine Themes
Current slot machines bear much more than fruit. You'll find games with every imaginable theme. Discover titles based on the latest Hollywood hits, cartoons, ancient Egypt, mythological figures, past decades, celebrities, music, animals, sports, animals, holidays, and pretty much anything else you can imagine. With hundreds of titles to choose from, it's easy to keep things fresh no matter what your tastes are.
Three Versus Five Reels
The vast majority of slots feature either three or five reels, although there are six and seven reel games out there. Reels refer to the number of rotating cylinders that make the game possible. The first slot machines had three reels, but technical advances and changing tastes mean five reels are the new standard. While 3 reel slots typically have a single payline, 5 reel slots can have dozens. With more ways to win, you'll win with greater frequency playing 5 reel slots but your individual wins will tend to be smaller. You can expect greater freedom when playing 5 reel slots, as you can usually adjust the number of lines each spin.
Mechanical Slot Machines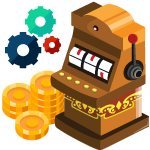 Although you won't find mechanical slots online due to technical limitations, you'll still encounter a few in the real world. These primitive games typically feature three reels, but five-reel mechanical slot machines do exist. As the name suggests, these contraptions use a series of gears, levers, and springs to deliver rather primitive gameplay. Later models feature the addition of basic motors, coils, and electromagnets for more reliable action. Mechanical slots are fun if you are looking for a dose of nostalgia, but most models are out of commission or call the museum home.
Video Slots
Video slots look more like video games than traditional slot machines. Rather than using mechanical parts, video slots feature computer generated reels on a monitor. As you can probably guess, internet slot machines are entirely computer generated and technically qualify as video slots. Yet video slots typically refer to games with advanced graphics, special effects, and bonus features.
Bonus Slots
Bonus slots may not warrant their own category since most video slots offer bonuses. Regardless, you'll likely see bonus slots advertised across the web so it's a good idea to get acquainted. These games include special bonuses features and extended gameplay that go beyond typical spins of the reels. Bonus games typically appear on a separate screen and are usually triggered by matching a set of symbols. You can typically win anything from free spins and cash prizes. Many progressive jackpots are awarded through bonus games.
There are many different kinds of bonus games, but games that let you spin a cash wheel or choose hidden prizes are the most common. You may even come across miniature video games. These bonus rounds don't require much skill and usually involve shooting simple targets.
Progressive Slots
Whether you play live or on the internet, progressive slots are easily the most popular slot machines. That's because the cash prizes are off the charts. It's not uncommon to see progressive jackpot worth several million pounds. What's even more impressive is it only takes a few pounds to play. As the name implies, progressive jackpots increase in time. Whenever you play a progressive slot, a portion of your wager goes to the prize pool. Since many of the largest progressive jackpots are shared across a network of sites, they can increase rapidly before your eyes. Plus, they keep rising until a lucky player wins.
Progressive slots come in both three and five reel configurations. While winning a progressive jackpot can transform your life, there are plenty of smaller prizes up for grabs. Keep in mind that you often have to play the maximum number of coins to qualify for the top jackpot.
Multi-Game Machines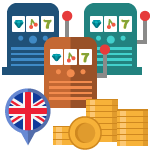 When playing at a live casino, you may encounter video slot machines that offer your choice of a dozen or more titles. This lets the casino save floor space while simultaneously expanding player options. Of course this is unnecessary on the internet since all online gambling sites let you access dozens, if not hundreds, of games on the same computer screen. Take advantage of the convenience wherever you play.