Online Slot Machine Tips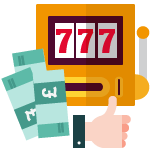 Whether you play at a live casino or on the internet, slot machines are always straightforward. Just insert your cash, spin the reels, and hope for the best. There's no doubt simplicity is a large part of their mass appeal. Yet despite the uncomplicated gameplay, not everyone manages to get the most out of their slots. While the gameplay itself is fool proof, winning big is another matter entirely. Take a look at our expert tips and discover how to improve your performance whenever and wherever you play.
Realise That Games Are Random
You already know that slots require no skills to play. That's why they are incredibly popular with beginners. Yet there are plenty of seasoned slot machine fanatics who appreciate the effortless gameplay. No matter where you lie on the spectrum, it's important to know that the outcome of every spin is a matter of pure chance. The result of every spin is determined by a RNG or random number generator. These complicated mathematical algorithms are regularly audited to ensure they are random and the games that depend upon then are fair.
Since fair games are truly random, there's nothing you can do to influence what happens. Of course, you can improve your performance using many of our other tips. Yet you can ignore the conspiracy theorists who refer to lucky machines or claim casinos let you win when you're losing to lure you back. You'll also want to steer clear of anyone selling so-called sure-fire winning systems.
Take Advantage Of Free Games
Did you know that you can play several hundred slot machines for free? The best licenced online casinos let you enjoy nearly all of their games at no cost. Although you'll be playing strictly for fun, free games are perfect for finding your favourites or test driving new games without spending a penny. If you have a limited budget, adding a few free games to your itinerary can keep you playing longer. Many sites now give new players a few free spins at real money games just for signing up.
Pace Yourself
Slot machines offer incredibly quick gameplay. Just because it's possible to play 500 games an hour, it doesn't mean you should. Spinning the reels in quick succession can make you desensitized and lead to less enjoyable games. You'll enjoy yourself more if you slow down. It often takes new players time to find their sweet spot, but most people are better off starting out slowly and then speeding up.
Always Compare Payout Percentages
If you've ever browsed slot machines online, the selection is equally impressive and overwhelming. The games that most people play are a matter of personal preference. You might prefer 5 reel slots with a cricket theme or a game with 100 pay lines. Yet if you want to improve your performance, it's important to play the games with the greatest payout percentages or payouts.
It's not hard to wrap your head around payouts. They are simply the percentage of cash that's returned to players over time. Keep in mind that payouts reflect the house edge over time not your individual experience. While payout percentages can range between 75%-99%, they vary widely across games and sites. The same game at a competing site may have a different payout percentage. The good news is that payouts aren't a secret and sites will proudly post your reference.
Claim A Bonus Offer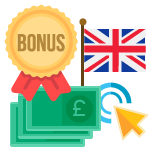 If you've spent even a minute searching for online casinos, you've likely been bombarded with endless bonus offers. When you consider that there are dozens of amazing licenced internet casinos in the UK, the competition for your business is fierce. That's why casinos are prepared to offer you hundreds of free pounds just for signing up. Although terms and conditions do apply, these offers are lucrative. Make sure to claim an offer when signing up and depositing. It's the easiest way to improve your overall performance at the slots.
Many sites now offer no obligation welcome packages when you sign up even if you aren't making a deposit. Expect to get a few free spins or a bit of cash to play with. You'll get to keep whatever you win too. No matter how big your budget is, bonuses will help you get more out of your game.
Don't Spend More Than You Can Afford To Lose
We all want to hit the jackpot. Yet there's no denying that at their core slot machines are entertainment. It's critical to know that over the long haul casinos do come out ahead. Although people definitely win big every day, you should never expect that today is going to be your lucky day. Your success is a matter of chance, so there's no sense going for broke. You'll have more fun if you gamble responsibly.
Figure out how big your entertainment budget is and don't veer beyond it. You don't want to put yourself in a position where you can't afford to eat or buy petrol. Most sites offer inexpensive games with competitive payouts and you can also take advantage of free games.
Don't Chase Your Losses
Going down with the metaphorical ship is never a good call. Yet that's what some gamblers do when they deposit more cash trying to rectify a losing streak. The fact is a losing streak isn't necessarily followed by a winning streak. When you consider that the gameplay is a result of randomness and variance, assuming the game is going to come full circle is simply a bad idea. If you've run out of money, you're better off calling it a day. You'll have more fun the next time you play with a fresh perspective.
Manage Your Bankroll
Sometimes it pays to prepare for the worst case scenario. When playing slots, you'll want to choose games that are in line with your budget. If you have £5, don't expect to play £5 slots or even £1 slots. If you don't win, you could find yourself sitting on the side-lines within a minute. Luckily casinos offer games starting at a £0.01. Keep in mind that some games let you play multiple lines per spin, which means penny slots can cost £0.50 or more if you choose. It's important that you play for stakes that will keep you playing for as long as you wish. When playing live slots, the payouts are generally worse on games with lower stakes. The odds are usually more favourable across the board when you play online.
Play Progressive Jackpot Games When They Balloon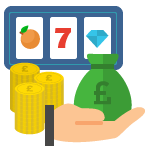 Progressive slots not only command headlines, but they have the potential to change your life. Who wouldn't want to win millions in a single spin? Critics will point out that the odds of winning border on impossible. Yet we do know that people win all the time. The trick is to play these games only when the jackpots get massive. The odds that someone will hit the big time improve over time. Not to mention that people win smaller prizes frequently. Keep in mind that you will need to play the maximum number of coins to qualify for the jackpot.
Take Advantage Of Loyalty Programs And Promotions
Perks aren't just for new players at online casinos. Most slot machine sites will reward you for your loyalty. Most casino rewards programs let you rack up points every time you spin the reels. Play regularly and you'll have enough points for amazing prizes and cash rewards. Don't forget to check out the latest casino promos including fantastic reload bonuses, complimentary spins, leader board contest, and more. When you claim every qualifying offer, you'll improve your bottom line.