Online Gambling UK Legislation Guide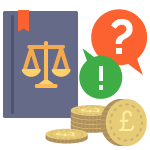 If you love online slots or any form of gambling, there's no better place to live than the United Kingdom. While much of the public believe that Las Vegas is the world's gambling Mecca, it's far less relevant than it once was. Thanks to the rise of the internet and mobile gaming, there's always hundreds of slot machines within reach. The best part is that gambling is perfectly legal throughout the UK. In fact, our government has passed legislation that not only permits playing online, but actually protects players. Whether you are a high roller or prefer playing strictly for fun, it's easy to find great games in Britain.
The Role Of The Gambling Commission
Since 2005 the UK Gambling Commission has been responsible for regulating both online and offline betting. The 2005 Gambling Act created the Gambling Commission whose mandate is to ensure gambling is safe, fair and transparent. This commission also aims to protect minors and vulnerable players, as well as keep organised crime out of the gambling industry.
Legal gambling isn't a new concept in Britain. The UK Gambling Commission was preceded by the Gambling Board. Naturally there have been some changes to the gambling act. Most recently a 2014 amendment to the act levied a 15% tax on casino profits no matter where casinos are based. The UK Gambling Commission primarily issues licences, but they also probe illegal gambling operations. Of course they have the power to cancel licences and fine sites for violating the terms of their licence.
Playing Legally In The United Kingdom

Did you know that players in the United States, Australia, and a handful of other countries have to rely on offshore sites to access online slots? Although a few US states licence online casinos, the overwhelming majority don't. We're mentioning this to illustrate how fortunate British fruit machine fanatics really are. There are more than a hundred legal places to play remotely, right here in the UK. At the same time, there are plenty of sites situated abroad that are vying for your attention.
Keep in mind that the UK Gambling Commission only licences sites that have a physical presence in Britain. Sites that are located and licenced in Europe, Alderney, Antigua, Barbuda, Gibraltar, and Isle Of Man, can currently advertise in the UK if they comply with a strict set of conditions. Yet ultimately players won't be able to rely on the accountability they'll find on domestic sites. Still, these offshore sites help make the landscape more competitive, which ultimately benefits UK players.
Generally, you are better off playing at a British slots site. The UK Gambling Commission requires online casinos to meet certain technical standards. This covers everything from security requirements and preventing collusion to ensuring that games are fair and random. When there's money on the line, the public deserves as much protection as possible. You won't get this kind of protection if you choose grey market site outside of the commission's jurisdiction.
Player Restrictions
Whether you play live or online, slots are restricted to people who are at least 18 years old. Don't be surprised if you are required to send copies of your identification when depositing or claiming your winnings. This typically involves uploading scans or snapshots of your ID. Speaking of proving your identity, it is prohibited by law to register under a false name. When you consider that betting is legal in the UK, there's little reason to play clandestinely.
Responsible Gaming
A key component of the UK Gambling Commission's directive is to protect players. As you may be aware, gambling can be a serious problem for a small percentage of the population. Licenced sites must treat players responsibly. Most slots sites financially contribute toward a responsible gambling trust, which provides treatment for problem gamblers. Sites also need to make resources available to customers who may have issues with betting. You may notice that sites can temporarily or permanently lock you out at your request if your gambling is becoming a problem. The UK Gambling Commission also works in conjunction with the Responsible Gambling Strategy Board to research and study issue with gambling. These stipulations apply to both online and offline sites.
Taxes And Personal Legal Obligations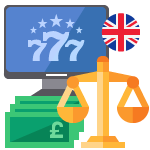 If you hit a massive progressive jackpot, the last thing you think about is taxes. That is unless there's a Beatles-themed slot machine based on the song Taxman. The good news is George Harrison isn't spinning in his grave. When you enjoy online slots, your winnings are tax-free. Whether you win £10 or £10,000,000 playing online slots, you get to keep it all. In the United Kingdom, it's the casinos who are subject to taxes. As we mentioned, they pay a special 15% tax on their profits.
Of course, if you aren't located in the United Kingdom these rules may not be applicable. For example, American players do pay taxes on gambling winnings. UK sites have no jurisdiction to collect any of this money. Yet that doesn't mean US players aren't required to report their winnings. It's always best to consult with an accountant if you play on UK sites but file your taxes elsewhere.
The Future Of Legal Gambling
The United Kingdom is somewhat of a trailblazer as far as gambling goes. You'll likely see more countries pass legislation based on the UK model. Even with a modest tax on casino profits, gambling is a boon to government coffers. When you consider that internet gambling is popular even in countries where it's illegal, it only makes sense for local governments to protect their players by making legal sites possible.
Here in the United Kingdom, the government is in the process of making changes to legal gambling. The UK Gambling Commission is likely going to require all foreign sites to be locally licenced if they want to accept British players, including sites that are currently white listed. We've already mentioned that offshore sites are legally obligated to pay taxes on the profits made from players in the United Kingdom, but you can expect even more enforcement. There has also been a push to provide better player protection if sites face financial difficulty.