Online Casino Jackpot Guide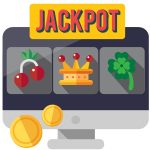 When you visit an online casino, the sheer selection of slots can be overpowering. The best sites offer hundreds of different games. You'll find titles based on your favourite films, shows, superheroes, historical figures, and gambling itself. While it's fun to give them all a fair shot, some games simply stand above all the others. What really tends to catch everyone's eyes are the huge quantities of cash. With massive jackpots up for grabs, the old adage that money talks is definitely alive and kicking at online casinos. It's worth seeing what the fuss is about at the leading slot machine sites.
Making Sense Of Jackpots
Although avid gamblers will tell you that slots offer worse odds than most other casino games, they usually fail to mention something far more important. Only slot machines can pay out millions off a small wager. Even if the likelihood of hitting the big time is low, dreaming is part of gambling's appeal. You don't have to keep you head in the clouds to enjoy slot machines. There are countless other prizes.
Did you know every slot machine offers some kind of jackpot? It's true at least technically speaking. In the plainest sense of the word, a jackpot is the top prize available. While hitting a jackpot is sure to set off the sirens it won't necessarily alter the course of your life. Of course the top prize isn't a mystery. The symbols you'll need to hit the jackpot, along with the size of your prize is displayed at the top of the pay table.
Progressive Jackpots
If you've ever played slot machines, you probably know that progressive slots are the main attraction. Nothing commands headlines like jackpots measured in millions, yet even more modest prizes can offer plenty of excitement. Just like the lottery, it doesn't take a lot of cash to strike it rich. While progressive slots are obviously innovative, the name refers to the escalating prize pool.
Whenever players participate in progressive games, a portion of each wager gets added to the prize pool. When you play progressive games at a pub or live casinos, you may find games that operate independently. Yet these days, games tend to be linked together when playing live. With so many players competing at once, the prizes can grow quickly. That explosive growth continues until someone hits the jackpot.
Unleashing The Power Of The Network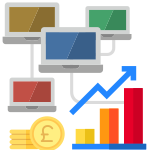 Online progressive slots are potentially more rewarding than anything you'll find in the physical world. That's because jackpots on the internet are available across multiple sites. Players from all over the planet can potentially contribute to the same jackpots. You might not realise it, but most casinos use games from one of a few leading casino software companies. That's why you'll find many of the most popular titles at numerous sites.
The participation of some many players not only help to create numerous multi-million pound jackpots, but it also means the prizes get replenished after being won. You can keep track of the world's largest prizes using handy trackers. Of course if you sign up for promotional newsletters, sites always shine the spotlight on the largest prizes.
Finding Jackpot Games
When playing live, you'll often notice crowds congregating around the most profitable games. You'll also find LED display boards and tickers advertising the top jackpots. When enjoying online slots, sites typically advertise jackpots on their homepage and in their apps. Yet the easiest way to find jackpot slots is by clicking on a button marked progressives. It's different on every site, but it's rarely hard to find.
How To Play Jackpot Games
Jackpot slots operate just like any other. You choose your machine, insert your money, and press the spin button. Jackpot games come in all sorts of different configuration. You'll find classic 3 reel titles with a single payline and 5 reel games with over a hundred paylines. Discover everything from basic fruit machines to the fanciest video slots with intense graphics and gripping bonus games.
You may be able to adjust the number of paylines, coin denomination, and total bet size when playing slots. Keep in mind that many titles require you to play the maximum number of coins to be eligible to win a jackpot. Also, some games only award the progressive jackpot if you land the correct symbol combinations on a specific payline. If that's the case, you'll want to make sure the required payline is active. These rules are more complicated than they sound and they are typically mentioned right on the game.
System Requirements
Jackpots are easily the biggest draw at casinos everywhere. Even if winning huge is a longshot, there's plenty of joy in affordable fantasies. Plus, your overall chances of landing a lesser prize are also far better than playing something like your local lottery. What's even better is how easy it is to play. The greatest online casinos let you access their games on almost any device. You can launch the games in any web browser in seconds. Mobile users can easily play on the go with handy apps for their Android smartphone, tablet, iPhone, or iPad. The best part is that you can count on a fully immersive and fluid experiences on any platform. Casino software developers have pulled out all the stops to bring you the biggest jackpots on your own terms.
The Downside Of Jackpot Games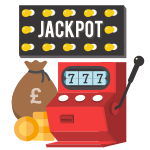 Although it used to be true that jackpot games had significantly worse payouts than standard slots, that's no longer the case when you play online. When you play on the internet, most games have payout percentages in the ninety-plus range. Many games offer more than one jackpot, which means you have a statistically solid chance of landing a significant prize. Either way it pays to compare payouts across sites before playing. You can visit our handy payout guide to learn more about this important topic.